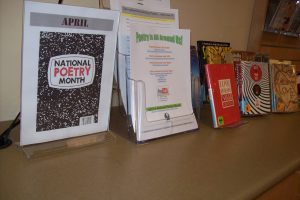 National Poetry Writing Month (NaPoWriMo) is a yearly event where poets put effort into writing a poem every day for the month of April.
This site is owned and run by Maureen Thorson, a Washington, D.C. poet. Influenced by NaNoWriMo, or National Novel Writing Month), in 2003, she started composing a poem a day during April and putting them on her blog. Soon, other individuals began composing poems for the month of April, and putting them on their personal blogs as well. Maureen linked to them to her blog. After a couple of years, numerous individuals were doing the same thing that Maureen chose to release an independent internet site for the task.
Thorson is also the publisher of Big Game Books. She welcomes other poets who have their own blogs to join her in creating a place where poets can get exposure. Not only do the poets get online exposure, but she also lists the poets who join the NaPoWriMo poets. Thorson still operates NaPoWriMo every year on her blog with the event growing year after year due to word-of-mouth advertising.
The American Academy of Poets combined NaPoWriMo to a fund raising drive in 2009. The Academy gave the fund-raiser to celebrate NaPoWriMo's 5th anniversary.
Other sites that have encouraged NaPoWriMo are:
• ReadWritePoem: No longer active, but archives are still online. This site talked about NaPoWriMo and supported NaPoWriMo with daily poetry excerpts. Moreover, this site created an anthology (Lulu Press).
• Bloof Books: Developed a NaPoWriMo podcast. While some could find writing poetry challenging or unnecessary, there are individuals that see poetry as hopeful and uplifting. I have actually been creating poetry since a young man, and honestly, I don't know what I would do without it.
Are you curious about composing poetry or learning the process associated with building a poem? Then start composing poetry right now, getting your creative thoughts on paper.